As my time at Defy Ventures comes to a close, I am able to more deeply understand the prison system and its exacerbation of racial inequity; however, I am left with a new sense of hope for a meaningful, transformational change. Defy Ventures is an employment, entrepreneurship, and personal development training program that supports incarcerated and formerly incarcerated individuals to become successful, legal entrepreneurs and employees. In the past three months, I had the opportunity to serve as a marketing and development intern for the non-profit. From helping it rebrand and launching a new website, to competing and winning a $100,000 grant in a public voting competition, I truly experienced the "startup" ecosystem of a non-profit.
Specifically, Defy Ventures' mission — shifting mindsets to give people with criminal histories the best shot at a second chance — resonated deeply with me. One of my greatest motivations to seek working for Defy is my family's history with the prison system — a formerly incarcerated father due to his struggle with mental health and alcoholism, a brother who was on house arrest as a result of the environment he was brought in, and a brother who continues to be in and out of prison due to a cycle of unemployment. Thus, at an early age, I understood how much a zip code mattered in creating an identity. Additionally, I watched my family struggled to reintegrate into society due to the everlasting effects of the prison system.
The Problem: Although someone has served their time, a second sentence begins as soon as they're released. It creates a revolving door to prison and a legacy of poverty, dependency, violence, and incarceration that is passed down through generations.
As a result, I wanted to intern for Defy Ventures because it meant something to me. I wanted to aid them in their mission to shift mindsets. I wanted others to recognize that people like my brothers are simply humans who made mistakes but are deserving of second chances. Moreover, I hoped to discover how Defy's programs dramatically reduced the national recidivism rate of 55.4% (returned to prison within 5 years) to 7.2%. Defy Ventures is tackling the American criminal justice system — an institution currently incarcerating 2.3 million people and a system costing the government and families of justice-involved people at least $182 billion every year.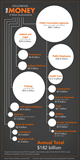 My most impactful experience at Defy Ventures was volunteering at the Business Pitch Competition and Graduation at California State Prison, Los Angeles County. The event encompassed a Shark Tank-style pitch competition of over 40 incarcerated Entrepreneurs in training. The motivated, focused and energetic aspiring entrepreneurs pitched innovative and creative startup ideas. Toward the end of the competition, the five finalists competed for a grant IOU of up to $500 for the EIT's business upon release from prison. The day concluded with a cap and gown graduation. Smiles and tears filled the room as the participants received their program certificates.
---




Overall, this event represented the impact of Defy's core program: CEO of Your New Life (CEO YNL). The program is a rigorous 7-month program consisting of 1,200 pages of proprietary curriculum content, supplementary video-based instruction, regular classes and peer discussion, exciting events with executive volunteers, mentorship and coaching, and the creation of deliverables including a resume, personal statement, and business concept plan.
I am forever grateful for the opportunity to intern at Defy Ventures. Their work is truly transformational and empowering, reshaping how the formerly incarcerated reintegrate into society. I am eager to see their future impact on society, defying the odds.